Your Go-To Guide for an Ocean Drive Staycation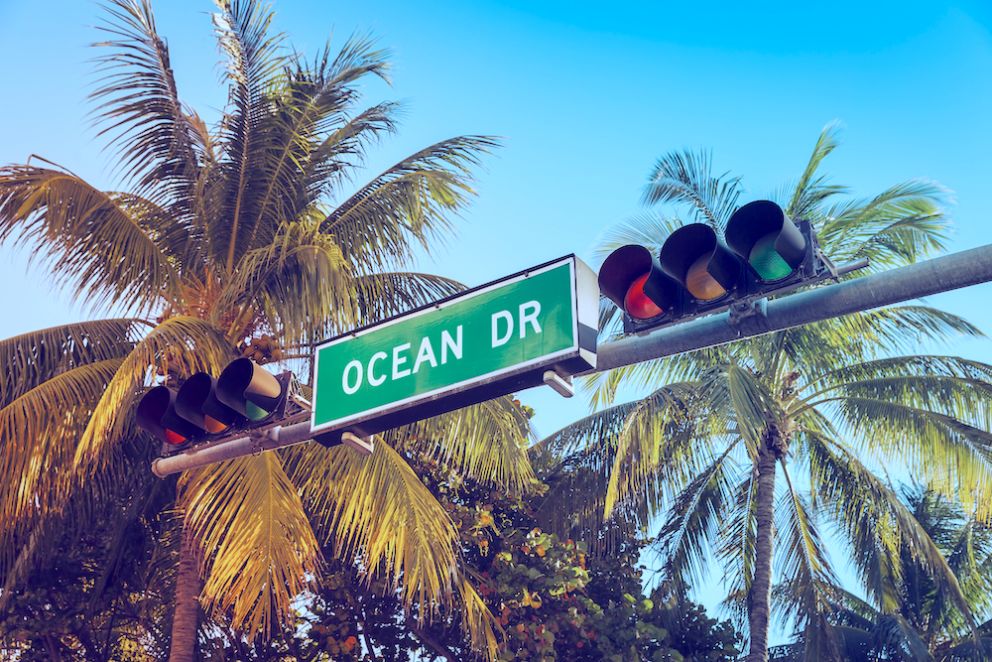 With the iconic Lummus Park and sandy beach flanking it's eastern side, and fabulous dining, boutiques, and colorful Art Deco architecture to its west, Ocean Drive is undoubtedly SoBe's most enchanting street. The 1.3 mile-long palm-lined drive stretches from 1st Street all the way up to 15th Street. Ocean Drive wasn't always the pedestrian-filled hub it is today. In the 1920s, commercial activity took over the streetscape and Ocean Drive eventually evolved to include high-end shops, boutique hotels, and sidewalk eateries. After a major revamp in the 80s, Ocean Drive's personality is here to stay. Here's your go-to guide for an Ocean Drive staycation.
Where to Eat
Cozy spots like The Local House and Azabu are great for a low-key dinner, while Havana 1957 and Mango's Tropical Café keep the late night bites going past midnight. Casual spots like Front Porch Café and News Café present a huge menu of American eats. For an elegant night out, try LT Steak & Seafood, Prime 112, CJ's Crab Shack, A Fish Called Avalon, Gloria Estefan's Larios on the Beach, and Gianni's, a romantic Italian eatery housed in the Versace mansion. Although outdoor patios, sidewalk seating, and tabletop hookahs are indicative of Ocean Drive's restaurants, new and innovative restaurants are popping up constantly along the famed street. Grammy award-winning rapper Pitbull opened up iLov305 in 2019, with a SoBe party atmosphere and Mexican-Latino grub that is quickly becoming a local favorite.
Where to Shop
Find kitschy souvenirs, surf attire, and beach necessities at one of Surf Style's four locations along Ocean Drive. For exclusive Ocean Drive mementos, visit the official Art Deco gift shop and Casillas Cigars for premium, flavored, and house-brand cigars made on site. Charming high-end boutiques to warrant more time inside include Sabrina Crippa's TAJ by Sabrina, Ocean Drive Gallery, and U Rock Couture.
[Your Ocean Drive Guide to Fashion]
What to Do
Snap a picture outside of the Versace mansion, get your fitness on at Muscle Beach, ride a bike through Lummus Park, and explore the colorful Art Deco architecture of Ocean Drive. Explore everything Art Deco at the Welcome Center, Museum, and gift shop at 1001 Ocean Drive. Ready to get exploring? Cover more ground and get to your destination faster with a CitiBike rental.
Where to Drink and Party
Find frozen tropical drinks at Wet Willies, candy-infused cocktails at Sugar Factory, and keep it classy and ultra chic at Bar at Dalia's indoor/outdoor horseshoe cocktail bar, coming soon to the new Celino Hotel. We've mentioned Mango's Tropical Café as a place to dine, but it's also a spot to party till dawn. The restaurant/nightclub is open until 5 a.m. almost every day of the week with live Latin music, DJs, salsa dance lessons, themed parties, and a seemingly endless supply of mojitos. A visit to Nikki Beach and VOODOO Nightclub is essential if you want to get in on the club scene. For a quieter, but equally entertaining place to unwind, pull up a chair, grab a cocktail, and find live music at A Fish called Avalon, Larios on the Beach, and Ocean's 10 on select nights of the week.
[Explore Ocean Drive After Dark]
Where to Stay
Celino Hotel strives to provide more than just a hotel room. The newest edition to Ocean Drive invites guests to settle in and lounge in style like old Hollywood's elite who used to frequent the property. On-site eateries, spacious loft-style layouts, a rooftop swimming pool, and its prime location only steps from Ocean Drive's most visited destinations inspire guests to feel comfortable, connected, and pampered. Be among the first to visit the brand new Celino Hotel on Ocean Drive, a seamless merger of historic Art Deco retrofit with a modern beachfront expansion.
subscribe to the blog and receive exclusive discounts