Explore Ocean Drive After Dark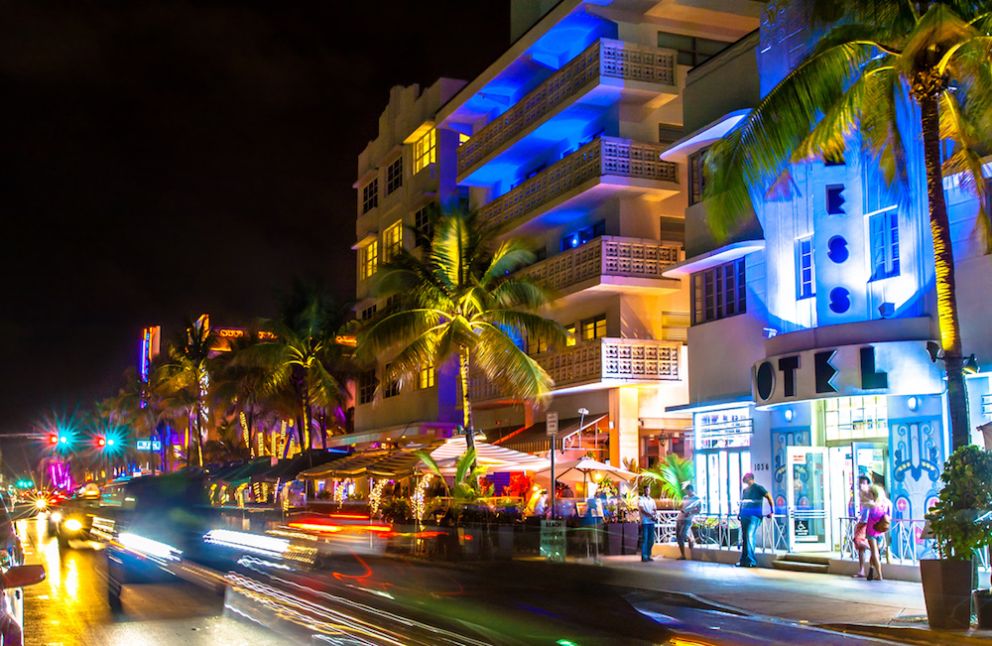 The color and excitement of South Beach's famed Ocean Drive never dims no matter what time of day. The sunshine spotlights the pastel-colored Art Deco architecture and palm-lined avenue by day, while a certain magic descends on the iconic street once the sun sets and the neon lights illuminate the town. Families retreat for the day, opening up Ocean Drive for a night of revelry at restaurants, bars, and clubs pulsing with music. Whether you're looking for something chill and easygoing or flashy and unique, use our picks to find a vibe that matches your mood.
Nightclubs
VOODOO nightclub and rooftop lounge overlooks the beach, but their Level 1 ignites after sunset with a DJ, dance floor, and VIP seating at the new tiki bar. If you want to party until morning, Mango's is open daily until 5 a.m. with live Latin music, DJs, and dancers at nightly themed parties. SoBe's newest nightspot recently opened on the celebrated strip, Pitbull's El Dorado 305. The restaurant and lounge combines the best of both worlds, the high impact entertainment value Miami is known for with an impressive menu cultivated in El Dorado's Las Vegas kitchen. The space acts as a restaurant by day and a nightclub with VIP rooms, a private lounge, and four bars when the sun goes down. For more of South Beach's hottest nightclubs, click here.
Live Music
Miami's musical roots run deep. Ocean Drive is alive with rhythm that'll get just about anyone moving. Find live Latin-Caribbean music every night on A Fish called Avalon's expansive front porch and live Latin music every night of the week at Mango's Tropical Café. Larios on the Beach has live entertainment Thursday through Sunday beginning at 6:30 p.m. on their Sidewalk Café and a Piano Bar on weekends. Ocean's 10 has a diverse lineup of live programming, from reggae to funk to cover bands playing the best-hit songs from every genre.
Restaurants
Ocean Drive restaurants present some of the best late night meals South Beach has to offer. For pristine seafood, try A Fish Called Avalon, CJ's Crab Shack, and Larios on the Beach for local catch prepared in a plethora of delightful ways. The Front Porch Café and News Café serve up a huge menu of American eats, with the latter open 24 hours. Caffe Milano, Forte dei Marmi, and Gianni's at the former Versace Mansion present elegant Italian fare, while Kantina Restaurant and Jalapeño Mexican Kitchen serve up giant margaritas paired with hookahs. No matter what food you fancy, these buzzy eateries are ultimate spots for people-watching.
Bars
Although Havana 1957 dishes out delicious Cuban eats, the interior bedecked in old Havana memorabilia pairs well with mojitos and their impressive, esoteric rum collection. Wet Willies is the perfect stop for frozen fruity cocktails. Their wall of frozen drink machines allow you to play bartender as you mix pre-made drinks to your heart's content. Continue your sugar high at Sugar Factory. Spiked adult beverages are mixed with sweet treats and served in candy goblets filled with Pop Rocks, lollipops, gummis, and more.
Visit the Celino Hotel's glamorous and sophisticated Bar at Dalia indoor/outdoor horseshoe cocktail bar for a late night cocktail. Miami's newest ultra-chic hangout opens into a vibrant cocktail area featuring eclectic furniture, colorful accents, and lush greenery. The exciting new space offers guests a welcoming space with live entertainment, seasonally-driven cocktails infused with exciting new spices and flavor combinations, and hand-crafted variations on timeless classics. Coming soon to the new Celino Hotel.
Be among the first to visit the brand new Celino Hotel on Ocean Drive, a seamless merger of historic Art Deco retrofit with a modern beachfront expansion.
subscribe to the blog and receive exclusive discounts