The Ultimate Guide to Navigating Around South Beach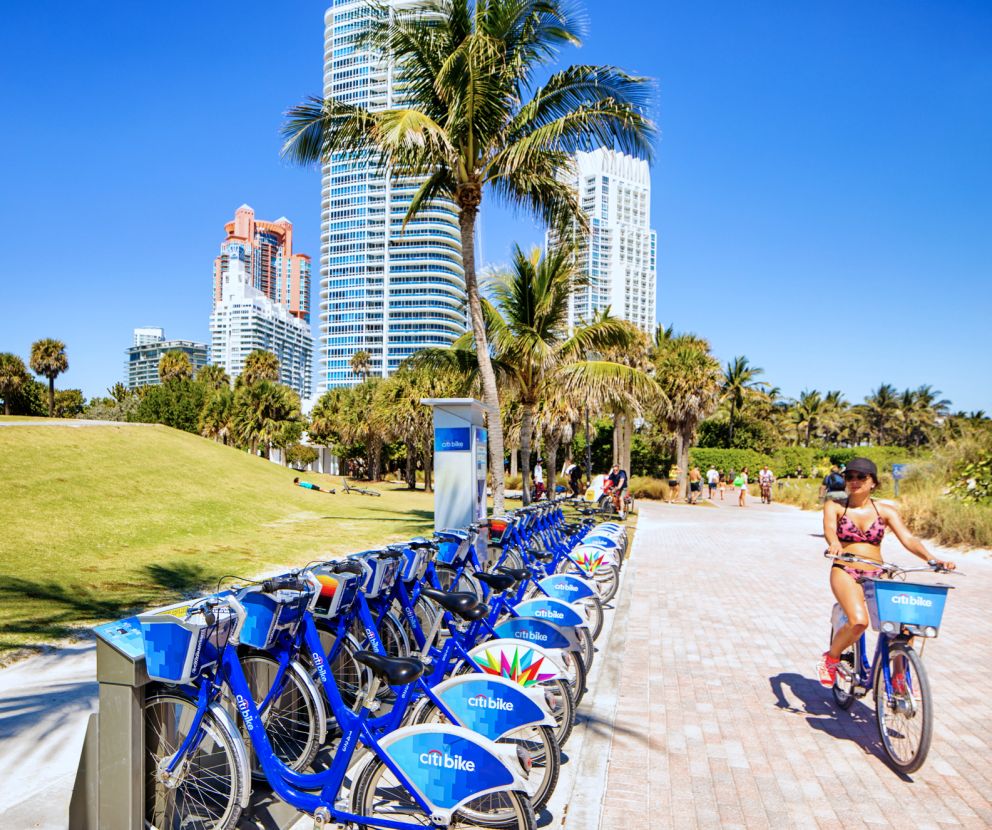 South Beach has a wide range of easy and affordable options for getting around. Make your visit simple with our ultimate guide to navigating around South Beach. Here's a snapshot of what the city has to offer.
The Layout
SoBe's grid system makes navigating a breeze. The neighborhood is mostly broken down into blocks, with north and south running streets, and east and west running streets. The "Streets" run east to west and are usually numbered, beginning with 1st Street on the southern tip of the neighborhood, extending north to 24th Street, where Mid-Beach begins. North and south running streets Alton Road to the west and Ocean Drive to the east border the neighborhood. With this simple geography in mind, you'll be navigativing like a local in no time.
Walking
South Beach was made for walking. Our pedestrian paradise is dotted with world-class restaurants, nightclubs, parks, boutiques, and so much more. Some of our favorite stroll-worthy streets are Española Way, Lincoln Road, and Ocean Drive. The roughly 1.3-mile-long Ocean Drive is home to lively eateries, colorful Art Deco buildings, and great photo opportunities. Make a day of it and plan to spend some time in Lummus Park before walking south along the boardwalk to South Pointe Park. The park and So-Fi neighborhood at the southern tip of Miami Beach is always heavily trafficked with sightseers taking advantage of the bay views, fishing pier, historic restaurants, and open green space.
Biking
Ready to grab SoBe by the handlebars? With bike-friendly streets and open spaces like Lummus Park and the Miami Beach Boardwalk, biking SoBe is a convenient way to get around town. The Citi Bike program makes it easier than ever. Miami's bike-sharing system provides a fleet of solar-powered bikes available at docking stations around the city. The heavy duty blue and silver bikes are available 24 hours a day, 365 days a year and can be rented by the hour.
Trolley
An interconnected trolley system makes it easy to get where you're going without a car. Miami Beach's free trolley operates around SoBe, providing 365 days a year service from early morning to midnight. Hop on the South Beach Loop to be whisked from South Pointe Pier north to the Miami Beach Convention Center and everywhere in between. Download the trolley's mobile app to see updates in real time.
Parking and Car Sharing
There are plenty of city and private garages scattered throughout the city, typically costing around $20 per day. The Miami Beach ParkMe app helps you find a parking destination near your destination by showing real-time occupancy and rates for certain facilities. If you need temporary accommodation, parking meters are around $4 per hour and are enforced 24 hours a day in the "entertainment zone" (from Ocean Drive to Pennsylvania Avenue and from 5th Street to 15th Street, including Washington Avenue). Give up your personal vehicle all together by using car sharing services like Uber, Lyft, and ZipCar, which all operate within the city and offer services by the ride, hour, or day.
Want to navigate like a native? Let us help. From your ultimate Ocean Drive guide to the best things to do in our beachfront neighborhood, stay up to date with the Celino Blog for everything SoBe. Make your SoBe experience complete by staying in the heart of it all. Be among the first to visit the brand new Celino Hotel on Ocean Drive, a seamless merger of historic Art Deco retrofit with a modern beachfront expansion.
subscribe to the blog and receive exclusive discounts