Basic Beach Workouts to Do on Your SoBe Vacation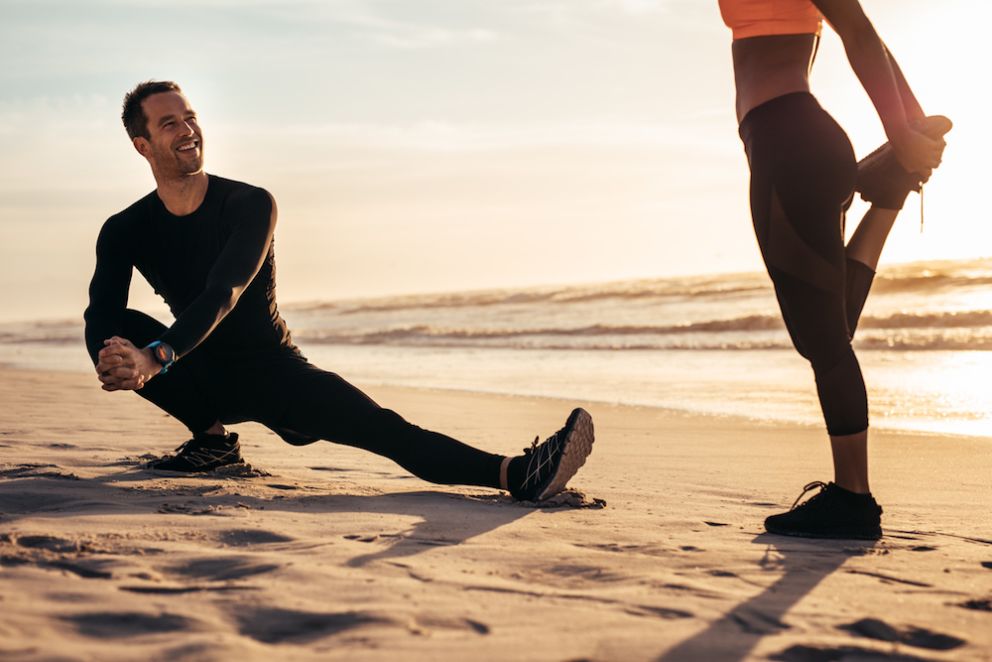 A South Beach vacation doesn't have to halt your fitness routine. Skip the gym and get creative in the sand. Here are some beach workout ideas to help you stay on track, build serious strength, and challenge your entire body.
Whole Body High-Intensity Interval Training
High-intensity interval training is all the rage right now in the fitness world. Head to a flat area of the sand to get started. Burn maximum calories in the least amount of time with a series of lunges, jump surfer squats, push-ups, and 20-yard shuttle sprints. Complete three rounds with 30 seconds of rest between each round.
Abs Exercise
Your core muscles are the central link connecting your upper and lower body. Building your core enhances balance, stability, and arm and leg functionability. Get in a killer abs workout on the beach without any equipment. Try arms-high partial sit-ups, flutter kicks, and side planks.
Beach Run
Expend one-and-a-half times more energy than running on a hard surface by taking a run on the sand. As your muscles work overtime to maintain stability, you burn more calories in the process. Stick close to the edge of the water for the most support.
Surf Training
Miami Beach is a surfer beginner's playground. The smaller waves and level seafloor are the perfect place to practice getting up on a board. Begin your lesson on the shore with surfer get-ups. Mimic the motion surfers make when rising to a standing position. Start on the sand in a plank position and practice getting yourself upward quickly into a squatting position. When you've mastered the execution, it's time to take to the waves to work on your balance. The full body workout can improve your abs, lower body, and arm strength.
Yoga
Exercising on an unstable surface strengthens the secondary muscles of the feet, hips, knees, and shoulder joints. Although balancing may be more of a challenge, your posture muscles get an intense workout as you hold every pose. Increase flexibility and improve your cardio and circulatory health by holding your yoga practice in the sand.
Swim Strokes
Take a dip in the warm waters of Miami Beach. Celino Hotel's proximity to the beach makes it easy. Swimming works our entire body by burning calories and toning muscles. Try the butterfly stroke for an upper body workout that engages your triceps, biceps, and shoulders. Freestyle swimming utilizes your deltoids and sides of your back, and the breaststroke is a great all-around muscle trainer that puts your back and chest muscles to work.
Follow the Celino Instagram and post a photo using #BeSeenCelino to show us what you get up to in the new Celino District.
Get to your exciting plans faster when you book with Celino South Beach. Be among the first to visit the brand new Celino District when you book our exclusive pre-opening promotion. Receive 20% off our Best Available Rate and a daily breakfast credit when you book now with Celino Hotel.
subscribe to the blog and receive exclusive discounts