Tips to Make the Most of Art Basel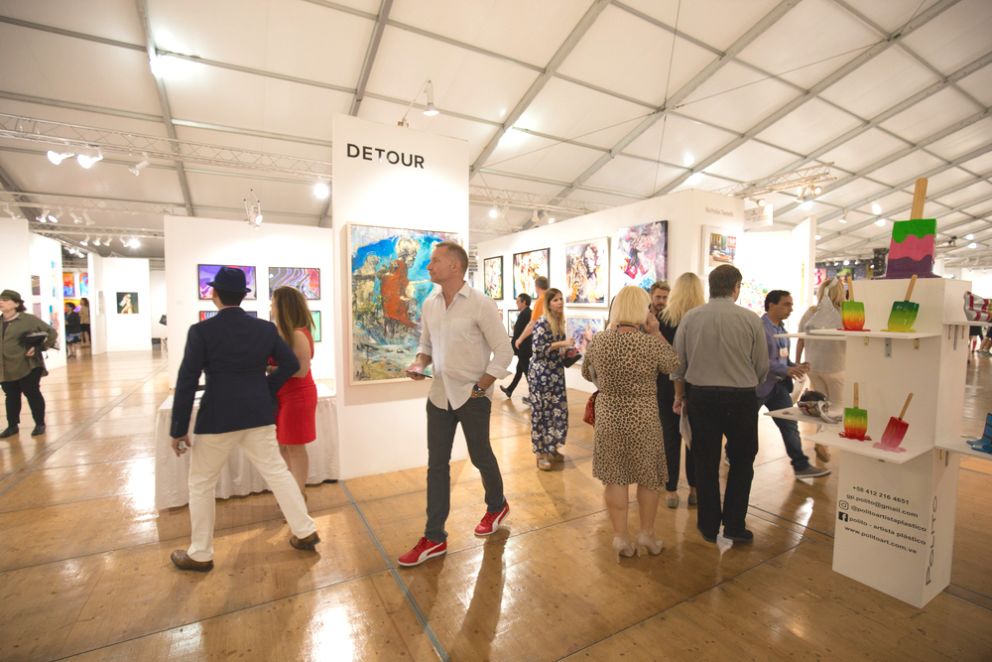 The premier art show of its kind returns to Miami Beach for a week devoted to showcasing modern and contemporary artworks from around the world. An art show of this magnitude can be overwhelming for any art lover. That's why we've compiled our top tips to make your Art Basel experience as enjoyable, smooth, and informative as possible.
Know Your Transportation Options
Miami Beach's biggest event of the year brings in over 83,000 people from around the world. Navigating through the masses can get overwhelming if you're doing it on the fly. It pays to have a transportation plan to and from events.
The Miami Beach Convention Center is the main hub of Art Basel. Valet and street parking is available, but you'll have to get there early to secure a spot. Minimize parking stress when you take advantage of the free Art Week shuttle. Provided by The City of Miami Beach, the shuttle gets you to and from select art shows and tents. Pick up the shuttle at the Scope Art Fair, Superfine!, and UNTITLED, ART Fair, located on Ocean Drive between 9th and 10th Streets (only a few blocks north of Celino) and take it to the Miami Beach Convention Center at Washington Avenue (just south of 18th Street). Shuttle service runs Thursday, December 5, to Saturday, December 7, from 11 a.m. to 8 p.m. and Sunday, December 8, from 11 a.m. to 6 p.m.
The Miami Beach Trolley is also free. From Celino Hotel, take the South Beach Loop B, which runs counterclockwise from 5th Street to Lincoln Road. Hop off at Lincoln Road and take the short walk north to the Convention Center. The trolley runs Monday to Saturday, from 6 a.m. to midnight, and on Sundays, from 8 a.m. to midnight. Follow both the Art Week shuttle and trolley in real-time by downloading the free Miami Beach eGov app.
Visit The City of Miami Beach for more transportation options, including the Metromover (free), Metrorail, Metrobus, CitiBike, and a list of local taxi companies, public parking garages, and ridesharing options with special services launching exclusively for Art Basel.
Pack Accordingly
Avoid having to return to your hotel to drop off prohibited items. Art Basel's bag policies are strict. Backpacks, suitcases, and trolleys of any size are not allowed, and all bags larger than 16" x 8" x 16" (40 x 20 x 40 cm) must be deposited at the coat check. Only one small bag per person is allowed, so make your items count. If you're art fair hopping for the day, a pair of comfortable shoes, collapsible umbrella, sunglasses, and on-the-go snacks can come in handy.
If you plan on sticking close to the main show, skip the snacks. The Miami Beach Convention Center has two self-service food markets, various cafes, and light meals are served at the outdoor Garden Cafe in the Botanical Garden.
Plan Ahead
Over 200 leading international modern and contemporary art galleries from North America, Latin America, Europe, and Asia display artworks by over 4,000 artists. With such an impressive list of participants, perusing the full list of galleries online is a great way to select your favorites and plan your visit. The sprawling Convention Center will be chock-full of galleries, and while just showing up and wandering is a serendipitous option, you can maximize your experience by knowing who the participating galleries and artists are beforehand.
Venture off-base
Don't just stick to the Convention Center for your art fix. All of Miami and Miami Beach comes alive during Art Basel. Although visitors can find works ranging from emerging young artists to museum-caliber masterpieces at the Convention Center (check out the floorplan to see who's showing and where), several large-scale works, film screenings, and performances take place close by at Collins Park and SoundScape Park. Here's the official calendar of events being held at the Convention Center, as well as the Museum of Contemporary Art, Good to Know, Rubell Museum, de la Cruz Collection, and more exciting locations.
Take a Tour
Make the most of Art Basel without being overwhelmed by it all. Explore show highlights at the Convention Center through a guided tour with a knowledgeable art expert. Get an introduction to the artwork, ask questions, and engage. Guided tours of Art Basel are organized in partnership with ArtNexus and are available daily during show hours (public days are Thursday, December 5, 2019, 3 p.m. to 8 p.m., Friday, December 6, 2019, 12 noon to 8 p.m., Saturday, December 7, 2019, 12 noon to 8 p.m.; and Sunday, December 8, 2019, 12 noon to 6 p.m.). Book your tour here. Customized tours for corporate, private groups, and foreign language tours can be arranged by contacting tours@artnexus.com.
Be among the first to visit the brand new Celino Hotel, a seamless merger of historic Art Deco retrofit with a modern beachfront expansion.
subscribe to the blog and receive exclusive discounts